We focus on Lawn Care and Tree Pruning; but we offer these other services below to our customers!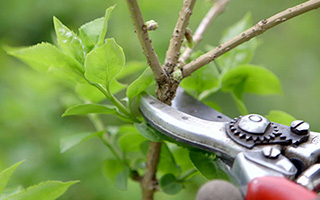 Pruning
Pruning is our speciality! Since 2005 we have focused on natural hand pruning without topping trees. We prune trees under 25 feet, fruit trees, shrubs, hedges, and roses. Pruning can be done all year round; but some plants prefer specific seasons for pruning. Pruning in winter months is great for heavy cut backs to control the size of a plant or to control fruit production. While summer is a great time to prune the unwanted extra growth of your shrubs.
We offer a couple different pruning packages and can tailor your pruning visits to the needs of your trees and shrubs.
Cost start at: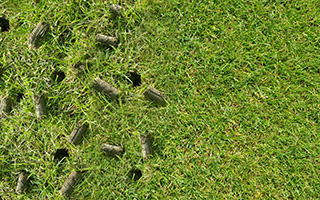 Lawn Aerating
We aerate lawn soil with special spikes; allowing air to penetrate the surface and helping lawns get more oxygen. Aerating should be done at least 1 time per year for optimal lawn health.
We aerate in May for warm season lawns (Bermuda, Zoysia, and Centipede); or October for Fescue (cool season) lawns.
Cost start at:
$90 for up to 3000 sq. ft. of lawn. Cost increases each additional 1000 sq. ft.
Add Fertilizing – $40.00 per application up to 3000 sq. ft. lawns. Cost increases each additional 1000 sq. ft.
Add Top Dressing – $60 per yard of soil (materials and labor)
Add Over seeding (Fescue ONLY) – $30.00 up to 2000 sq. ft. lawns. Cost increases each additional 1000 sq. ft.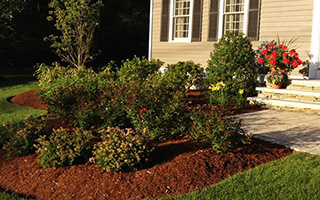 Mulching
The best time for mulching is in February; when your ground is clear from weeds and leaves. Mulching in February also cuts back on spring weeds, protects bulbs and perennials, and gives you better mulch coverage as most flowers, ornamental grasses and other plants are dormant at this time of year.
To get the best price for mulching plan to schedule it between January and March. We prefer to spread mulch during winter months when our schedule has more room; prices increase significantly for mulching between April and December.
We typically mulch with triple shredded mulches (chocolate, black or red) or pine needles; but can deliver and spread which ever mulch you prefer.
Cost start at:
Triple Shredded Mulch – $60.00 per yard of mulch + delivery fee
Pine Needles – $10 per bale + delivery fee
Other Mulch types depend on price from supplier
If your beds need weeding prior to mulch than add at least $180 for a clean-up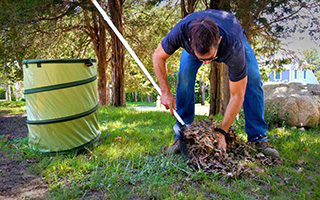 Landscape Clean-ups
This includes anything that your landscape needs to look beautiful again! Can include: mow, edge, blow, plant cut backs, shrub and hedge pruning, tree pruning, weeding, garbage and debris removal.
Cost start at:
$300 for one-time Clean-ups; price increases with size and difficulty of job. Disposal fees added when needed.
$180 for Quarterly Clean-up Packages (no lawn maintenance required).
Our Lawn Legs Package covers lawn maintenance, weeding, plant cut backs, leaf clean up, and debris removal on a weekly schedule to avoid any need for clean-ups.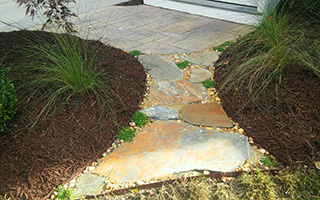 Landscape Changes (Winter work only)
During the winter months we can help you with ideas to create a more beautiful landscape! We focus on small jobs only to improve the beauty and function of your landscape. We can do jobs like rock work (pathways, beds borders, dry creek beds, drains), and planting (transplanting, designs and installations, garden beds). Larger jobs will be referred to someone who specializes in the work. All costs depend on needs and materials for the job.
Additional Services Calendar
January
Tree and Fruit Tree pruning
Clean ups
All extra work for clients
February
Mulching
Pruning
All extra work for clients
October
Fescue Aerating/Over seeding
December
Leaf clean up
Clean up