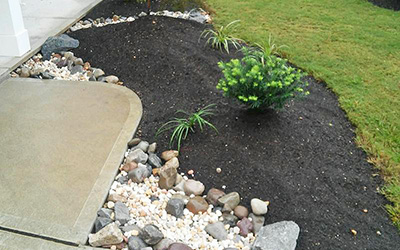 A Dry Creek bed is esthetically pleasing (beautiful) in any landscape. It adds texture, color, shape and variety. It is a great place for planting succulent and grass perennials giving them a dryer, well drained place to flourish. And it is low maintenance… something we all need!
Dry creek beds can also be functional! Placing these rocks in places that water gathers during a rain storm (common here in North Carolina) can prevent mulch and soil run… off as well as help the water to drain down into the earth instead of running along the top.
When creating a dry creek bed it is important to keep it real! Throwing down a pile of rocks, it just that…a pile of rocks. The creek bed should flow smoothly as a creek would, from one side of your property or bed to the other in a long curvy line.Let the creek bed flow gently, avoiding sharp turns. Making sure to use some wide and some thin rock deposits.
It is also important to have a variety of rock sizes and even colors as a real creek would have. Adding a few large boulders along the edges, and smaller rocks in the center and under the larger river rock.
We offer this service, contact us today for more information.